What Is The Certification For?
The Center for Guardianship Certification (CGC) (formerly the National Guardianship Foundation) was created in 1994 as an allied foundation of the National Guardianship Association (NGA) to enhance the quality of guardianship services through national certification. CGC views certification not as the end, but as a means to demonstrate to the public, clients, and the courts that the certified guardian has sufficient skill, knowledge and understanding of the universal guardianship principals to be worthy of the responsibility entrusted to him or her. Certification entitles the guardian to represent to the courts and the public that he or she is:
eligible to be appointed,

is not disqualified by prior conduct,

agrees to abide by universal ethical standards governing a person with

fiduciary responsibilities,

submits to a disciplinary process, and

can demonstrate through a written test an understanding of basic guardianship

principals and standards.
While testing distinguishes certification from registration, passing the examination is just one component of the certification process. The complete process includes:
acquiring a basic floor of necessary knowledge (eligibility),

demonstrating proficiency in core competencies (examination),

enhancing skills and understanding (continuing education),

maintaining ethical conduct (re-certification), and

avoiding malfeasance (de-certification).
At Sunrise Fiduciary, we are focused on providing trust and financial administration services with the highest levels of customer satisfaction, and we will do everything we can to meet your expectations. With a variety of services to choose from, we're sure you'll be happy working with us. Look around our website and if you have any comments or questions, please feel free to contact us. We hope to see you again! Check back later for new updates to our website. There's much more to come!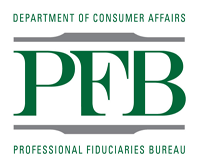 California Licensed Professional Fiduciary 839 Guardian/Conservator, Owner
Mrs. Kluge is licensed by the Professional Fiduciaries Bureau of California, under the Department of Consumer Affairs (916) 574-7340, https://www.fiduciary.ca.gov/ . She earned her Certificate in Professional Fiduciary Management for Trustees, and her Certificate in Professional Fiduciary Management for Conservators at California State University, Fullerton (CSUF). She also has a Bachelor of Arts degree in Broadcasting at San Francisco State. For over 27 years, Mrs. Kluge determined eligibility and worked with Medi-Cal (Medicaid), Medicare, Social Security benefits, long term care, disabled children, seniors, mentally challenged, developmentally delayed, working disabled, many forms of income and property, as well as reviewing trusts. She enjoys economics and investing, and learned solid, conservative investment strategies from CSUF, and her membership in Better Investing since 2003.
/